Faith Daily Workout
---
---
Why would a compassionate all powerful God allow horrible things to happen to good people?
This is a favorite question of skeptics with an agenda. Recently, I was watching a Television News Program after a shooting rampage that had resulted in mass casualties… the hosts had invited a Minister on the program and asked him the question, "Why do terrible things happen to good people?" The Minister hemmed and hawed and finally said something like, "We mortals can't hope to understand the mind of God."
What kind of an answer is that?
Allow me to explain… at one point during His ministry Jesus responded to a Pharisee (religious leaders in their day) who attempted to use scripture to trap him into error. Our Lord rebuked the Pharisee and explained to the man, "You neither know the scriptures nor do you understand them." Then, Jesus went on to explain the scripture the man was attempting to quote and gave him the meaning. Unfortunately, the Minister on that Television News Program did not understand the scripture well enough to correctly answer the question. The answer is… God doesn't have a thing to do with evil. So… why would a compassionate all powerful God allow horrible things to happen to good people? Well… Let's take the example of these horrible mass shootings that happen periodically? What about the mass shooting that occurred at Virginia Tech in 2007 where 32 young people were killed and 17 were wounded? So many innocents killed by a deranged man? First of all, God wasn't involved. It was a DERANGED MAN filled with a lust for self-importance that killed those people. But God, all knowing, all powerful, all compassionate, didn't stop him!
Why?
Let's phrase the same question another way… God, all knowing, all powerful, all compassionate, did not take away this deranged man's free will.
Why?
The answer is… because God gave men and women free will in the first place. God doesn't say something today and then tomorrow change His mind. As a matter of fact… God doesn't say something today and then ten thousand years from now change his mind. God's Word is the glue that holds creation together. God's Word doesn't change.
"And God blessed them, and God said unto them, be fruitful,
and multiply and replenish the earth, and subdue it, and have
dominion over the fish of the seas, and over the fowl of the
air, and over every living thing that moveth upon the earth."
Genesis 2: 28
God created the earth and turned it over to mankind and womankind and their descendants forever.
GOD GAVE US FREEWILL.
Which means that everything is available to us. Every evil thing and every good thing is available to us. GOD will not interfere with our exercise of free will. The Creator limited his power over his own creation, handing that power over to Adam and Eve and their descendants forever. However, the Creator WILL answer the prayers of the faithful as long as the request is in line with his given Word. He does answer faith-filled prayers. The Father may choose to protect his own but still… mankind has free will. Men can commit the most heinous acts upon other men or they can love their children and their wives and protect them and provide for them. We can obey God's commandments or not obey them. The choice is ours.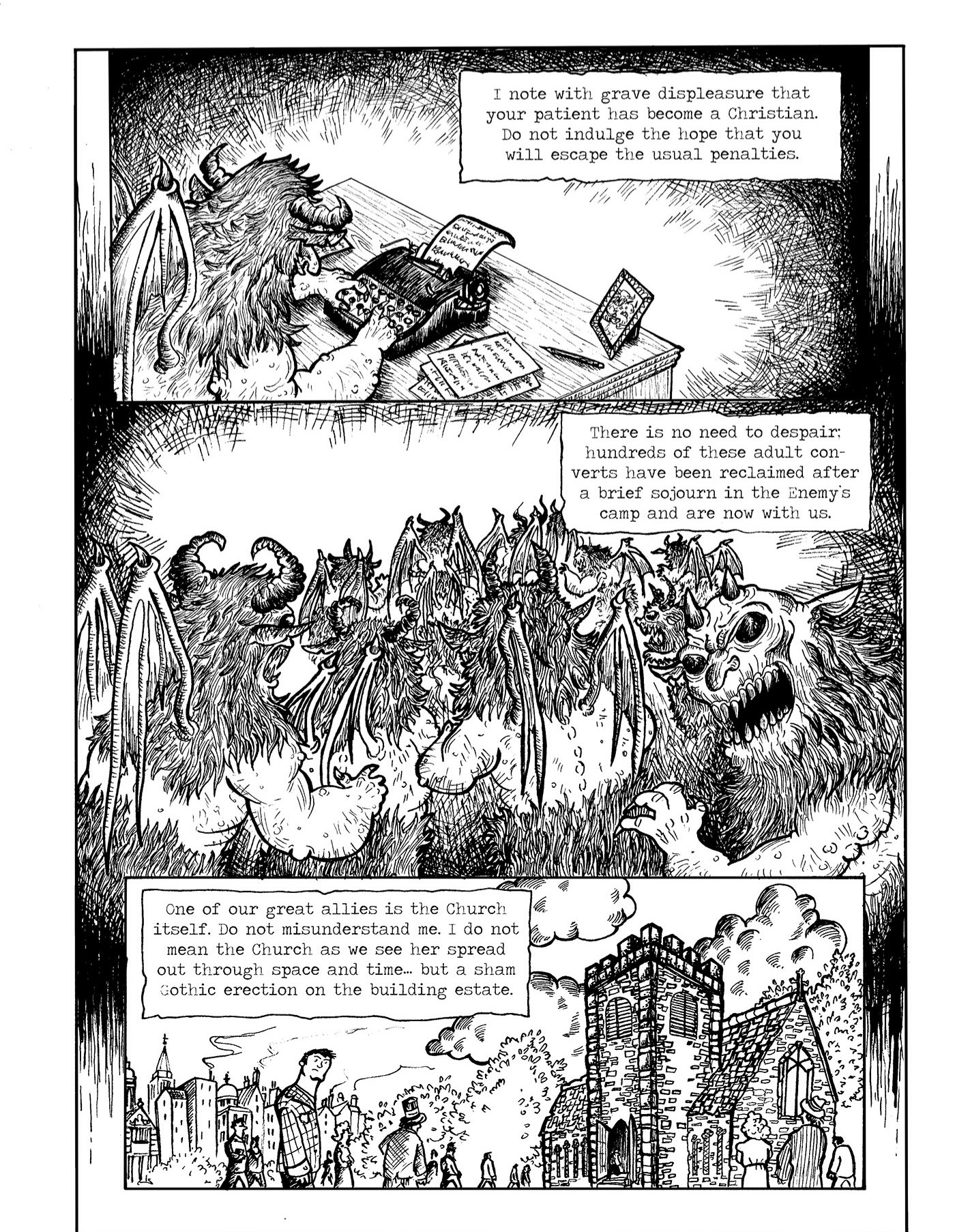 Illustration from a Graphic Novel Version of C.S. Lewis' Masterpiece... The Screwtape Letters.
But, God didn't just give us this great gift and leave us to our own devices. He also gave us His Word. There are thirty-nine books in the Old Testament and twenty-seven books in the New Testament. There are nine hundred and fifty-six pages of His Word in the King James Version of the bible. He gave us a guidebook for life. He also gave us the ministry of the Prophets and the ministry of the Messiah. He gave us the example of Jesus Christ who overcame the world and conquered death.
We can study His Word and develop faith muscles that will move mountains… or not. But, God doesn't change His mind and He will not take free will away from mankind. Therefore, unless all men and women repent of their sins and turn to Jesus Christ as their Savior and Lord, evil men and women will unfortunately continue to use their gift of a free will in perverse ways and they will continue to do horrible things to good people.

Faith For Tomorrow
---
---
The Great Sermon on the Mount
The great Sermon on the Mount may be the most influential sermon ever given voice to in the history of the world. The words the Lord spoke there on the Mount two thousand years ago were words that no one had ever heard before. They were concepts of humanity that no one had ever spoken before. They seem old-hat to us now because for two thousand years they have gripped the spirits of men and women all over the world. In countries where the gospel of Jesus Christ is barely ever heard these concepts first given voice by Jesus of Nazareth powerfully influence human interaction in ways we will never fully understand.
When Jesus came down from the heights with the twelve, villagers from all over the area began following them; some, coming from as far away as Jerusalem, while others came out from areas around Tyre and Sidon. Until finally, there was a multitude following along behind Jesus and his Apostles; and, upon learning that the Rabbi from Nazareth was walking toward Galilee, they followed him onto the plain at the foot of a mountain; all of them wanted to hear Jesus preach and they also wanted to ask him to heal their infirmities. Demons possessed many, and everyone who was able to reach Jesus received healing, and when the multitude saw this, they crushed in, seeking to touch him because healing power flowed out of him.
After a while, the crowd settled down on the slope of the plain to hear him speak.
Standing up among them, Jesus looked toward his disciples, then back to the multitude, gesturing with his hands as if drawing them all in. Finally, he spoke and said, "Blessed be the poor, for yours is the kingdom of GOD. Blessed are you that are hungry now, for you shall be filled. Blessed are you that are sad now, for later, you shall laugh. And if men and women hate you and push you out… if they accuse you and destroy your reputation with lies because you follow me… Rejoice!
Leap for joy!
Your reward in heaven will be great. Remember this… Their fathers did the very same thing to the prophets."
This particular field was well known to the traveling evangelists; they had camped here before and knew this grassy depression in the landscape created a natural amphitheater created by nature's GOD and as effective as any structure ever designed by the Romans. This same meadow was a place they had often used; the Rabbi and his Apostles knew the spot quite well, a field that had the added advantage of being not very far from Capernaum. Additionally, adding to this depression's attraction was the scenic beauty and serenity of the place; the sky beyond the Lord was the deepest blue with long-winged seabirds gliding this way and that over and about the green hills below.
Jesus paused, before looking out over the crowd, before raising his arms and almost shouting, "But, woe unto you who are satisfied only in your riches, for you already have your reward. And, woe unto you who care only about filling your bellies, for you shall go hungry. And, woe unto you who only care about drinking and laughing, because later you will mourn your loss. I say to you now… Beware when men and women whisper flattery in your ears because their fathers and mothers did the same thing to the false prophets who told them lies about GOD. I say unto you who will hear me, Love your enemies, and, if you can, try to treat those who hate you with charity. Bless them that curse you and pray for those who use you badly. And, if someone strikes you on one cheek, do not hit back wildly. No, I say… No! Turn to that man the other cheek, then, if he strikes you again, walk away.
You should be a stronger person.
And, if someone takes your coat, give him your shirt also. Give something to everyone who asks whenever you can. And if someone steals from you, do not worry yourself into a harried state.
Believe GOD!
Do unto others as you would have them do unto you.
Remember this, if you love only those who love you, what have you accomplished? Even sinners love those that love them. If you do good only to those who do good to you, what thanks do you deserve? If you give only to those from whom you hope to receive, you have simply made a wise investment. I ask you, is it not true, sinners do the same thing?"
Pausing momentarily, the Lord reached up with his right arm and curled his fingers about his shoulder, his left arm hanging down at his side. And, he stood like that for several moments before, suddenly, pushing out his right arm and pointing with his forefinger, moving the accusing digit slowly from side to side, pointing at the multitude who waited breathlessly for his next word. The black parts of the Lord's penetrating eyes seemed to emit specks of light as he said, "Be merciful! Be merciful as your Father in heaven is merciful. Judge not, lest you be judged. Condemn not, and others will not condemn you. Forgive, and GOD will forgive you. Be generous, hoping for nothing in return, and your reward will be great. Love your enemies, and you shall be known as the children of GOD. After all, GOD is patient with those who are not thankful and even with those who are evil. Give generously to the ministry and your brothers and sisters in need, and GOD will meet your needs. He will fill up your baskets, and shake them down, and fill them again until they are so full, they run over. Always remember this, GOD notices how generous you are and rewards you the same."
Suddenly, from a distance came a cacophony of gull calls.
The calls sounded strange to the Galileans, not the familiar squawks; instead, the calls reminded them of laughter. Bartholomew, one of the Apostles, pointed to the sky and gave the gulls a name, calling them the laughing gulls. Jesus smiled, his head tilted ever so slightly. Then, he laughed out loud at the comical sound; the Lord loved all the creatures GOD had created.
After a moment, the Lord turned his attention again to the people, and he said, "Do not worry about your brother's small faults when your faults are great. Do not be a hypocrite. First, get rid of your faults, then you will be able to see clearly enough to help your brother. After all, can a blind man lead a blind man? Will they not both stumble into a ditch? Become perfect in your faith, and you will be more like me. No good tree produces bad fruit, and no bad tree produces good fruit. Likewise, men and women often become recognized by the fruit of their labor. If you produce that which is good, you will be known as good. Men do not gather figs from thornbushes or pick grapes from a bramble bush. If you want figs, you go to a fig tree. And, if you desire the kingdom of GOD, you go to GOD. Remember this, a good man from out of the goodness of his heart does that which is good. And, an evil man from out of the darkness in his heart does that which is evil. From the abundance of the heart, the mouth speaks."
Someone near him shouted out and said, "Lord, your sayings are too hard for us."
The Lord listened to the man, paused, and went on to say, "Why do you call me Lord, and then do not do what I say? Everyone who comes to me and listens to me and does what I say is like the man who builds his house on a solid stone foundation. When the flood comes and pushes against the house, it remains standing, for the house was built on rock. But, men and women who listen to me and refuse to do what I say are like the foolish man who builds his house on a foundation of sand. And, when the flood comes, the house is swept away in a great pile of rubble."
The Lord preached for a good long while until darkness began to blanket the area, and as evening approached, Jesus finished his preaching and led his followers back to Capernaum, where they intended to rest for a time.
These passages come from the gospel according to Luke (Luke 6: 17-49) and are taken from the Kings James Version of the Holy Bible. The text above is a translation/interpretation of the KJV text. You should go to your own bible and read the scripture as given in the KJV and use the expanded translation above to help you in your understanding if the King James English is difficult for you. The point is, you always need to verify everything for yourself by checking it against the scriptures.
---
---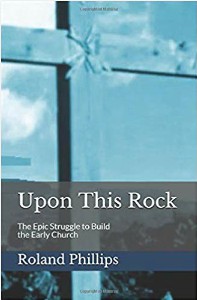 Faith for Tomorrow would like to recommend a reasonably priced novel to our Readers, which is now available on Amazon. The title is… Upon this Rock.
Upon this Rock is a retelling of scripture covering the ministry of Jesus and the building of his church. This historical novel is written in the voice of Luke, the Physician, who gave us two books within the Christian Bible; the Gospel According to Luke and the Acts of the Apostles. The author attempts to expand the narrative Luke gave us regarding the ministry of Jesus and the building of his church while trying to fill in blanks. It's as if the author took the two books, the Gospel According to Luke and the Acts of the Apostles, right out of the King James Version of the Bible and combined and expanded the manuscript into one history; then, translated the difficult King James English (very few thees and thous) into an idiom easily understood by almost anyone in our modern world. The text follows Paul's evangelical journeys as the great evangelist trudges through Israel, Judea, Asia Minor, Syria, Greece, and Italy, bringing the gospel to a hostile Roman world. This work follows (and translates) the King James Version of the Bible—which to generations of believers is the greatest version—diligently. However, if you've ever been frustrated by the Early Modern English of the KJV… UPON THIS ROCK is for you. So, come on… take a journey with the author through the Ministry of Jesus and the building of his church as seen through the Physician's eyes, all explained in common everyday twenty-first century English.
Note: Upon This Rock is a historical novel; history and scripture as seen through the author's eyes. Often a reader might come across something in a book where the author describes what was said in a closed room between two historical figures. How did the author know what was said in that room? Well, the truth is, he or she didn't know; the author presented the reader with educated guesses based on a thorough knowledge of the times, mores, and customs of that particular era in human history and an informed understanding of the characters involved. That's what the author of Upon This Rock has done; attempting to fill in the gaps. A few lines of scripture may cover decades. The events that occurred in a decade cannot be told in a few lines of prose; therefore, why not use your knowledge of the people, language, and customs of that era to fill in the gaps as best you can? The author considers his novel accurate regarding history but does not view his work TO BE history because he imagined himself a fly on the wall in too many closed rooms.
For the absolute truth, go to the Scriptures.
Upon This Rock is Available now: in paperback and as an e-book on Kindle unlimited on Amazon.com.
Faithfortomorrow.net gives Upon This Rock a rating of five stars.
CLICK ON THE LIVE LINK EMBEDDED ABOVE WITHIN THE COVER ILLUSTRATION
---
http://www.alliancedefensefund.org/main/default.aspx