FAITH TO FOLLOW
---
---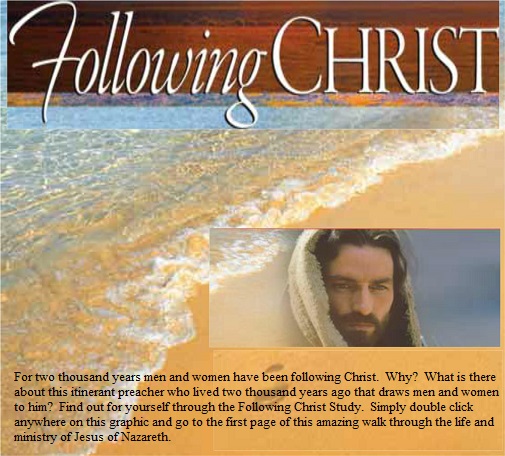 The Following Christ Study was developed by the Ministries of the Assembly of God and is on loan to Faith For Tomorrow from that fine Christ centered organization. Here is a live link to the AOG website. www.ag.org Please visit AOG and see what they have to offer for you. The actual creator and copyright holder for the Following Christ Study material is Randy Hurst. Copyright ©1997 Randy Hurst. Thank You AOG and Randy.
---
---
---
---
---
---
Do you have the Faith to Follow?
Some time ago, two coworkers were overheard speaking about Faith and the Crucifixion in the lunchroom where they worked. One of them mentioned that he regularly attended church with his wife. If so, he should have known better than to utter the opinion he subsequently offered to his coworker. Without hesitation, the man referred to the crucifixion, saying, "Faith didn't do much good for Jesus. Talk about having a really bad day!" Which might impress upon a bystander—who happened to overhear such a remark—that some men and men are terribly confused about the meaning of the crucifixion; how could a professed Christian be so misled about the most important event in all of Christendom?
Some may believe that a good man, a helpless preacher, was unjustly taken by powerful forces and crucified, thereby enduring a horrible death. If so, what is so unusual about a person unjustly suffering an awful death? Throughout history, without a doubt, millions of human beings have suffered unjust and horrible deaths. Think about the Holocaust; millions of innocents died in awful ways. And one might even include among that terrible number, someone like Joan of Arc. Recall that in fifteenth-century France, Joan was falsely accused by supposed men of piety (the transcripts of her ecclesiastical trial at Rouen, France are still in existence) and sentenced to be burned at the stake for heresy. However, one difference between these cases and the suffering of Christ upon the cross is these victims had no choice in their fate. In these cases, the victims were helpless; they were murdered by evil men who had the power to do whatever they wanted.
Therefore, recalling that there have been hundreds of millions of innocent victims over the ages … What was so special about Golgotha?
The difference, of course, is that Jesus' death on the cross was the greatest act of self-sacrifice on behalf of others that the world has ever seen. Because of that day two thousand years ago, men and women learned what self-sacrifice means. And, because of Jesus, the world now has examples like Francis of Assisi and Mother Theressa; to sacrifice the self (to give your all) for your fellow men is a Christian ideal.
Of course, there have been many other sacrificial death cases on behalf of others endured over the ages, but there is always a slight BUT very MEANINGFUL difference. For example, years ago, there was a news story about a woman whose car went over the embankment up in one of the mountain canyons above the San Gabriel Valley in Southern California. The woman's car landed in a ravine, upside down, in a running mountain stream. She was pinned in the car, in the driver's seat, and her infant was beside her. The infant was in danger of being drowned. Unhappily, the woman was unable to free herself from the driver's seat; however, she was able to brace her legs in such a way as to lift her infant upon her knees above the surface of the water. And that's how they found her. She had drowned but was wedged in her seat in such a way as to save her child. Presumably, the woman had sacrificed herself, endured drowning, saving her infant from that same fate. Wow! What a story. But… even in this wonderful example… that wonderful woman was protecting her OWN child; she acted out of a GODLY instinct—that should be in all women who have given birth to a child—because GOD put that instinct there.
So what is the difference between the examples mentioned above… and Golgotha?
Well, some may be under the impression—like that coworker at the beginning of this article— that Jesus was taken by evil men who had the power to do to him whatever they wished.
Not true!
Jesus's death was sacrificial in that he did not have to die horribly on that cross; he had a choice. Jesus didn't sacrifice himself for family members; the Messiah voluntarily endured horrible suffering on that terrible cross for every man and every woman who would ever walk upon the face of the planet, indeed for every man and every woman who ever lived or would ever will live. That would have been enough, but the nature of his sacrifice goes even beyond that…
Jesus of Nazareth was the most powerful human being who ever lived; here are, from the scriptures, just a few examples of HIS authority over GOD's creation, over nature herself:
Jesus tells Peter and Andrew where to cast their nets, and they bring in a miraculous catch. Luke 5:1-11

Jesus raises a widow's son from the dead in Nain. Luke 7:11-17

Jesus commands demons into a herd of pigs. Mark 5: 1-20

Jesus' word transforms a few pieces of bread and fish into enough to feed 5,000. Luke 9:10-17

Jesus walks on water. Luke 6:45-52

Jesus causes the fig tree to wither by his word alone. Mark 11:12-14

Jesus commands the wind, and even the storm obeyed him. Matthew 8: 23-27

Jesus raises Lazarus—who had been dead for over three days—from the dead. John 11:43
Jesus Christ was the most powerful human man (and GOD in the flesh) who ever walked over the face of the planet; if he had said the word, if he had uttered the phrase, armies of angels would have poured out of heaven to lift him off the cross, and at his word, would have turned the planet into a burning cinder. No, Jesus did NOT have a bad day two thousand years ago on Golgotha. Jesus so loved the Father that he obeyed GOD, THE FATHER, even unto death. Jesus so loved humanity that he endured unimaginable suffering and temporary death for every person who would ever walk upon the face of the earth, for us all. There is a term, Agape Love. Agape (a Greek word) is love that is selfless, unconditional, without reservation, and without reward. Jesus taught mankind what Agape Love really is…
Two thousand years ago, on a hill outside of Jerusalem, the most powerful man ever to be born of a woman had a very good day… A VERY GOOD DAY INDEED.
"It is Finished!"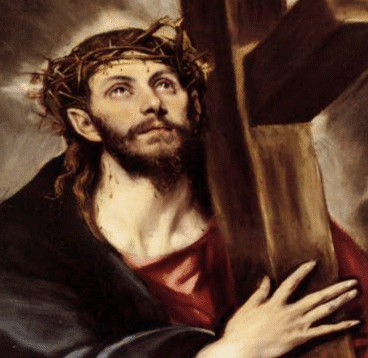 Shown above: a detail from an oil painting by the 16th Century Spanish Painter known as El Greco (the Greek). The original work hangs in the Del Prado Museum in Madrid, Spain.
---

So, don't just stand there on the bank uninvolved and watch Jesus cross over the raging torrent on a tightrope, go ahead, take a leap of faith, jump up into the Lord's arms, and believe that the Lion of Judah will carry you safely across those troubled waters.
---
---